ExceptionalNurse.com, a nonprofit resource network for nurses and nursing students with disabilities presents:
Pedagogy Online
Pedagogy is the art and science of teaching, instruction, and training. It is the goal of Pedagogy to offer the most current course content, with the highest possible quality, using a variety of education methods and strategies.
---
Prevention of Medical Errors
Linda Bertino, RN, MSN of Rainbow Consultants is the provider of this unique program.

Are you tired of reading a dull, narrative paper? Then, give this a try while supporting a nurse with a disability.
The program is presented in an easy to follow PowerPoint format.
It can be completed in the comfort of your home.
Email: Linda at rainbeaus@live.com. Cost of the online program is $20.00 (two contact hours).
Linda Bertino, RN, MSN, Rainbow Consultants

*This course meets the Florida two hour requirement for healthcare professionals. FBN # 50-9534

---
Teaching Nursing Students with Disabilities: From Student to Practicing Nurse
At the completion of this program, the nurse/educator/administrator will be able to:
Identify accommodations for a student with hearing loss.
Describe accommodations for a student who uses a wheelchair.
List accommodations for a nursing student with vision loss.
Identify resources (organizations, equipment, and technology) that can assist students with disabilities.
Develop a plan for a nursing student with a disability from student to practicing nurse.
This self-paced home study course includes a copy of the book:
Leave No Nurse Behind: Nurses working with disAbilities
By Donna Maheady, Ed.D., APRN

ExceptionalNurse.com has been accredited as a provider of continuing education in nursing by the State of California Board of Registered Nursing, BRN provider number 14352, for 4.5 contact hours.
Cost of the program: $36.00
Mail a check payable to ExceptionalNurse.com
13019 Coastal Circle
Palm Beach Gardens, Florida 33410
(Include your name, address, telephone and email address)
Or pay with PayPal
Thank you and Good Luck!!
A full refund will be made only if all course materials are returned in satisfactory condition within 30 days.
---
When Your Student is Deaf

by Martha McElyea, RN, MSN, Rockhurst/Research College of Nursing
(PDF)

This program is based on the experiences of a nursing faculty member who worked with two nursing students with significant hearing losses. Both students received accommodations and went on to graduate and work as nurses.

Objectives include:
Examination of deaf culture
Classroom/clinical teaching
Technology/communication techniques
Preparation of the new graduate for employment
The program is offered for 1.5 contact hours.
If you are interested in receiving credit for this program, you will need to complete the post test. Please email to request the post test and send a check for $12.00 to ExceptionalNurse.com at 13019 Coastal Circle, Palm Beach Gardens, Florida 33410 (Include your name, address, telephone, course title and email address).
---
SafeNClear "The Communicator Mask"
A continuing education program for nurses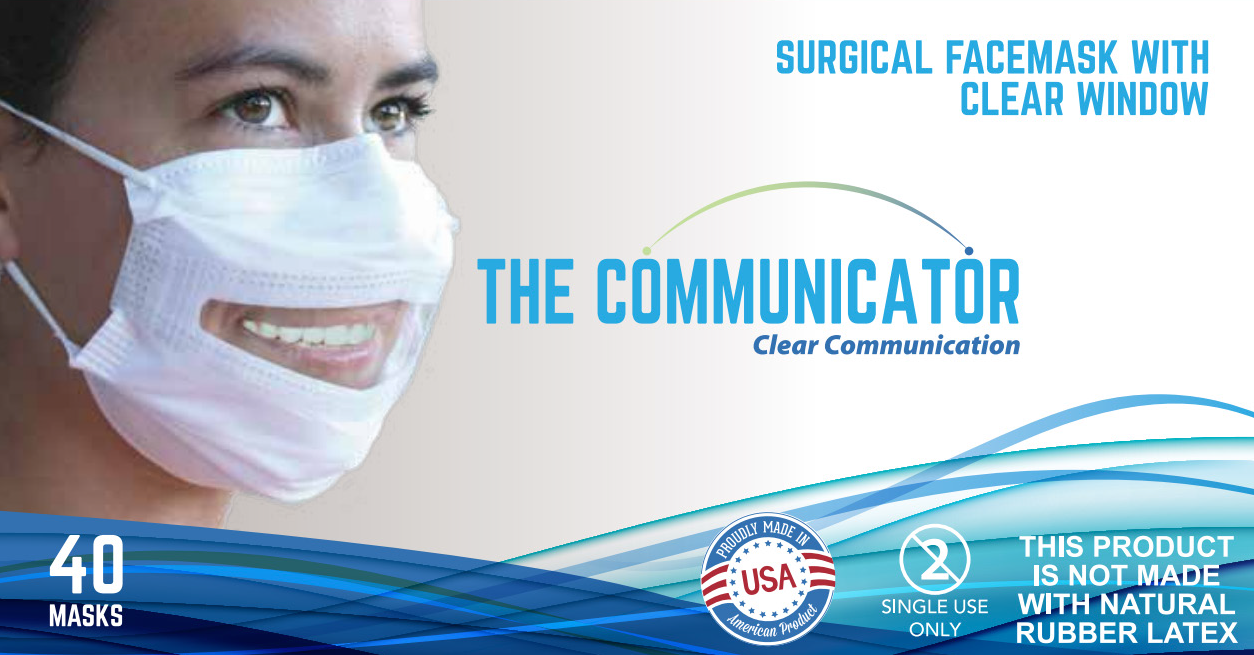 Want to learn more about The Communicator Mask and earn 1.0 ceu? Here is your chance to learn from the creator of the mask, Dr. Anne McIntosh, President of SafeNClear!
Upon completion of this self-paced continuing education program, the participant will be able to:
Identify needs of patients with hearing loss
Recognize the importance of facial expressions for visual communicators
Identify ways to avoid muffled speech
List common characteristics of sign language users
Compare and contrast masks with clear windows to traditional masks
Dr. Anne McIntosh has a BA in Speech Communication from UNC Chapel Hill, an MA in Interpersonal Communication from University of Montana at Missoula and a PhD in Communication Sciences and Disorders from University of Texas at Austin.
ExceptionalNurse.com is a State of California, Board of Nursing continuing education provider No. CEP14352
The cost of the program is $10.00 (click on the donate link to pay). Proceeds help to support our scholarships to nursing students with hearing loss. When payment is received you will receive a link to a power point presentation and other materials.
Please complete the Post-Test (a score of 80% is required to pass) and the course evaluation form and email both to ExceptionalNurse@aol.com. If a passing score is achieved, your certificate will be sent back via email. If a passing score was not achieved, you will be notified and allowed to re-take the test one time.